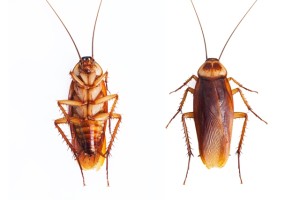 Cockroaches are the oldest and most resilient insects living everywhere — in houses, apartments, trailers, and teepees. There are about 4,500 species of different cockroach that exist worldwide, less than 1% of them are regarded as structural pests which regularly invade homes and other buildings. Roaches can squeeze through cracks the thickness of a quarter and live a month without food. They are often brought into structures via packages and boxes. They can also travel between walls in multiple dwelling building. Some outdoor species enter into structure via cracks and crevices in wall or underneath.
Common Pest Cockroach Species in Canada
Cockroaches can wreak havoc on your home. To win the war in cockroach control, here's what you should know:
Entry: Depending on the species cockroaches can enter your home in many different ways, from the outside through cracks and crevices, vents, sewer and drain pipes. They can be brought in on products like grocery bags, boxes, purses and/or can hitchhike on a person's clothing!
Ideal environment: With plenty of food, warmth, water and harbourage sites, they can remain active all year round.
Reproduction: Cockroaches reproduce quickly. For every one you see there can be many more hiding and multiplying behind your walls.
Evasiveness: Because cockroaches are nocturnal, if you've seen one, you probably haven't seen them all. The few cockroaches you see by day could mean they were likely forced out by overcrowding; a possible sign of severe infestation.
Allergies/Asthma: Allergens from cast-off cockroach skins, dead bodies and droppings can aggravate allergies, especially in children and individuals with compromised immune system.
Do-it-yourself ineffectiveness: Cockroaches are better at hiding than you are at finding them, and their eggs are naturally protected from insecticides. Without special equipment, materials and know-how, cockroach control can be a losing battle.
American cockroach
Latin Name: Periplaneta americana
Appearance: Approximately 1/2-inch in length – one of the largest of structure-infesting cockroaches. Their bodies are reddish brown with light markings on the thorax. Both the male and females have wings but they are poor flyers.
Habit: Prefer warm, damp areas and are more likely to be seen in daytime and outdoors than other cockroach species. Commonly seen near food preparation areas.
Diet: American cockroaches are omnivores, feeding on any food source available to them but they prefer fermenting foods.
Reproduction: Females produce on average 8 egg capsules in their lifetime; each capsule contains approximately 14 to 16 eggs each. The Egg capsule is dropped off 24 hours after it is formed and it is glued to a protected surface. The nymphs hatch from the capsules, molt about 13 times before becoming and adult. Development time from egg to adult is approximately 600 days depending on temperature. Adults can live up to 15 months.
Brown-banded cockroach
Latin Name: Supella longipalpis
Appearance: About 5/8-inch long, but size depends on sex. Wings have two brownish-yellow bands. They have a characteristic black bell shaped pattern on thorax.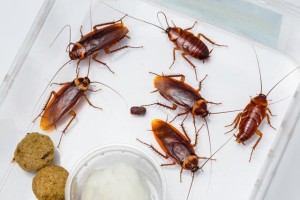 Habit: Nocturnal; only males can fly. They may be found throughout any structure, but prefer dry, warm areas, high locations and inside furniture.
Diet: Omnivores; eats almost anything.
Reproduction: Female carries egg capsule for 24 to 36 hours, then attaches it underneath or on the side of a protected surface. Each capsule contains an average of 18 eggs. Nymphs reach maturity in an average of 161 days. Adults live up to 10 months.
German cockroach
Most common and important of the structure infesting cockroaches in Canada.
Latin Name: Blattella germanica
Appearance: About 5/8-inch long. Light to medium brown with two dark longitudinal streaks on the thorax.
Habit: Found in apartments, homes, supermarkets, restaurants.
Diet: Scavenger; eats almost anything.
Reproduction: Females can produce one egg capsule every 20 to 25 days. Each capsule contains from 18 to 48 eggs. Nymphs become adults in as little as 50 days. Adults can live up to one year.
Oriental cockroach
Latin Name: Blatta orientalis
Appearance: Shiny black, females are larger than the males in size about 1 ¼ and males are 1 inch long. Females are wingless except for wing pads. both cannot fly.
Habit: Common outdoors; often enters buildings through sewer pipes. Tends to live near the ground and in warm, damp areas.
Diet: Eats anything, but often found feeding on garbage, sewage and decaying organic matter.
Reproduction: Egg capsules contain 16 eggs. Females will produce an average of 8 capsules. Nymphs go through 7 molts before becoming adults in about a year. Adults can live up to six months.