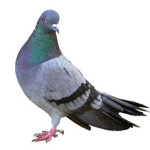 Although birds are important component of the ecosystem, some species can be nuisances especially in urban areas. Pigeons, house sparrows, gulls, woodpeckers, starlings are bird species that create headache to people in urban environment. Control of these birds is a complicated issue due to the Migratory Bird Treaty Act, which protects certain species from trapping and relocation. Birds are predisposed to nest around office and apartment buildings thereby creating serious issues like damaging buildings and equipment, creating fire hazards, etc.
Is a Bird a Pest?
It is difficult for some people to think of birds as pests. But a bird problem can lead to lost business, contaminated products and expensive damage to building exteriors. Certain species of birds have become recognized public health threats because they harbour disease organisms that can be transmitted to humans. Bird droppings are an added problem, signalling unsanitary conditions and eating away at building finishes. The droppings can also be expensive to clean up. We can customize a bird control program that uses habitat modification to make your facility unattractive to birds.
European Starling
Latin Name: Sturnus vulgaris
Appearance: Pudgy birds, about the size of robins. Vary in color from one season to the next, displaying purple-green feathers with white markings and a yellow bill in warm weather and darker feathers tipped in light brown with a blue-black bill in cold weather.
Habit: Consume large quantities of livestock feed and contaminate even more with their droppings. Travel in flocks of several thousand in the winter. Individual birds can squeeze through a hole in a building as small as an inch in diameter.
Diet: Prefer fruits and seeds, either wild or cultivated, supplemented with insects during the spring breeding season. Will eat virtually any livestock feed that is not bound and covered.
Reproduction: Nest almost anywhere they can wedge a small nest, including commercial buildings. Females lay as many as seven eggs, which hatch after less than two weeks of incubation. Young starlings leave the nest within three weeks of birth.
Other: Starlings were introduced in North America a century ago. Since then, they have spread to virtually every state and province.
House (English) Sparrow
Latin Name: Passer domesticus
Appearance: The world's most common bird. Small, brown-black with pale undersides. Tails are noticeably shorter than wings, bills and legs are stubby.
Habit: Forage aggressively for food on the ground, hopping whenever they do not fly. Flight is direct, with continued wing-flapping and no gliding. Often threaten or attack other birds. Inhabit a relatively small area in modest-sized flocks.
Diet: Eager eaters, favour variety of seeds, supplemented occasionally by insects and bird feeders.
Reproduction: Occurs between February and May. Build nests in building crevices and nearby trees. Up to eight eggs are found in the nest, and incubation lasts as long as two weeks. Males and females feed the young through regurgitation.
Other: Sparrows like areas that have been inhabited by humans. They are much more common in an industrial park, or a city lawn, than in a forest.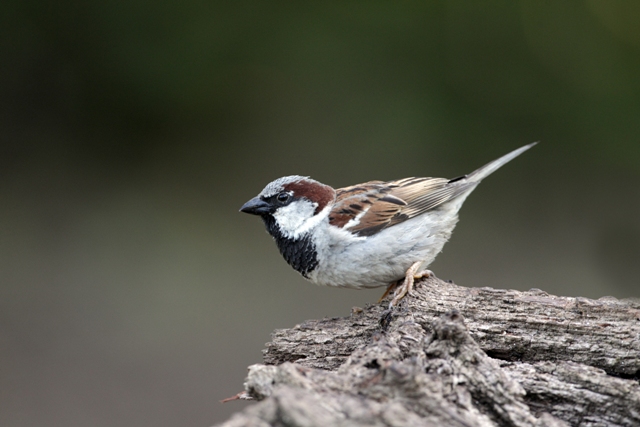 Pigeon (Rock Dove)
Latin Name: Columba livia
Appearance: Dark, blue-gray heads with glossy yellow, greenish and reddish-purple markings along their neck and wing feathers. Grayish-pink bill. Two dark bands are usually seen on the wings and there is a single dark band across the tail.
Habit: Walk or run with their heads bobbing forward and back; fly in a direct path. Feed in the morning and early afternoon and take cover at night, nest in large flocks. Feral pigeons nest in old farm buildings, with skyscrapers taking the place of natural cliff surroundings.
Diet: Prefer seeds but will eat many things off open ground. Feral city pigeons consume popcorn, bread, cake, peanuts and more.
Reproduction: Pigeons pair for life. Males build the nest, where eggs hatch about 19 days after being laid. Both parents incubate the eggs, which vary in quantity.
Other: Pigeons are considered the No. 1 pest by most urban residents. Predators include: opossums, raccoons, owls, eagles and sparrow hawks.
Prevention tips
Netting or spike strips can prevent birds from landing and nesting on your balcony.
However, in most cases, treatment of this type issue requires a licensed pest control professional or wildlife specialist who will take care of the problem legally and effectively.